Item request has been placed!
×
Item request cannot be made.
×
Processing Request
Hours and Location
We are located at 1501 Third Avenue in Spring Lake, NJ
Public Services
Computers, WiFi, Copy, Print, Scan and Fax Services are available for the public.
Print / Copy: Black- $.10 per page
Print / Copy: Color- $.50 per page
Scan- $1.00 per scan.  Scan will be sent to one of our public computers for you to access
Fax- $1.00 per page  You will need to be present to receive a fax.
Notary Public
Notary Public Service is available by appointment inside the library 12pm - 4:30pm weekdays, with the exception of Thursdays.
Notary service is provided free of charge to the public.
A valid (government-issued) photo identification is required for everyone requesting notary service.
Notary service is limited to three (3) documents per person, per visit.
The Spring Lake Library will not provide witnesses, and witnesses may not be solicited from among other patrons.
Documents in any language other than English cannot be notarized here.
New Jersey requires that a Notary and the person seeking notarization be able to communicate directly with each other.
Certain public documents cannot be copied and notarized. Examples are United States birth certificates, death certificates, and marriage certificates.
Notary service is not available for deeds, codicils, or depositions.
---
In accordance with New Jersey Notarial Law, Notaries will not provide service if the patron, document, or circumstances of the request for Notary service raise any issue of authenticity, ambiguity, doubt, or uncertainty for the Library. In this event, Notaries may, at their sole discretion, decline to provide Notary service.
Staff / Board of Trustees
Library Staff
Contact

Janet Boldt- Director

Andrea Craig- Assistant Director   

Mary Jane Burke- Part-Time       

Leslie Skarbek- Part-Time

Kylie Newton- Page

n/a
Board Members
 

Christine Mawn- Co-President

Megan Rigney-  Co-President

Jim Stokes- Treasurer

Jen Winn- Secretary

Cynthia Baumgartner

Susan Burrus

Patrick Reilly

Joseph Erbe- Mayor's Rep.

 

 

 

 

 

 

 

 
Meetings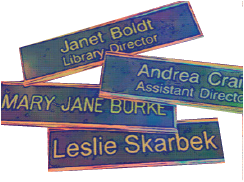 The Board of Trustees meet on the second Wednesday of the Month, with the exception of July and December.
This meeting begins at 5pm and is open to the public.
Mission Statement
Mission
"The mission of the Spring Lake Library is to provide the community with a caring, welcoming and lively cultural connection to reading, lifelong learning and personal and professional enrichment for people of all ages. The Library maintains an open, unbiased environment and upholds the public's right to access information. It provides individualized assistance, community outreach, professional expertise, and current technologies for equal access to facilities, quality services and materials in all formats."
---
Vision Statement
Vision
"The Spring Lake Library aims to provide the community a hub for information and discovery through robust collections and resources, innovative programming, and responsive services, while continually anticipating and meeting the changing needs of our patrons."
Computer and Internet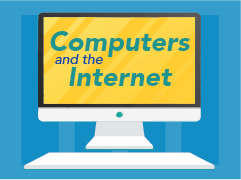 Computer and Internet Policies:
The computers must be used in a responsible manner, respecting the rights of others, and taking care with the use of the equipment. Computer and Internet settings may not be changed, and we do not allow the use of any USB drives.
---
New Jersey Statute 2C:34-4 prohibits you from accessing or displaying pornographic and/or obscene materials. You will forfeit your Internet privileges if you violate these terms of use. You may not use the Library's computers for any fraudulent or unlawful purpose.  The Library cannot be responsible for the availability, timeliness, security or reliability of the Network. The Library cannot assume responsibility for the security of privacy of any of your online transactions.
---
Regulations Inside the Library
Library Regulations:
The Spring Lake Public Library has a responsibility to provide its materials, services and the use of its facilities to the greatest number of individuals possible. It also has a duty to protect the rights and see to the safety of both patrons and staff. To that end, the following rules and regulations have been established by the Spring Lake Public Library Board of Trustees.
---
Employees are required to notify patrons of these rules whenever necessary to preserve the tranquil atmosphere of the Library. When necessary, the police will be called in to assist in the enforcement of these rules. Patron privileges may be suspended on a temporary or permanent basis, as determined by the Library Director. 
   1) Any conduct that interferes with another person's use of the Library is prohibited. Such conduct includes, but is not limited to: 
Loud or boisterous activity. 
Conversations and behaviors that distract others. 
Music or audio played at levels that can be heard by others. d. Abusing Library furniture, equipment or materials. 
Harassing others, either verbally or physically. 
   2) Smoking is prohibited by law throughout the Library and on all Library property. This includes e-cigarettes. 
   3) Cell phone conversation is not permitted inside the Library. All ringtones should be turned off upon entering the building. 
   4) Eating and drinking are prohibited in all public areas. Any food or drink brought into the Library must be stored in a sealed, unopened container. 
   5) Sleeping is not permitted in the Library. 
   6) Shoes and proper attire must be worn at all times. 
   7) The Library is not responsible for any lost or stolen items. 
   8) Organizations or individuals that wish to have their literature displayed in select locations must bring them to the circulation desk for approval.
   9) Children under eight years of age may not be left unattended in the Library or on Library property. They must be under the direct supervision of an attentive parent or effective caregiver at all times. 
   10) The public viewing of materials that is harmful to minors, including but not limited to sexually explicit material, is forbidden on all Library property. 
The Library reserves the right to remove individuals who violate these rules. In addition, employees of the library have the right to remove any individual that is causing    unease for the workers or for other patrons. In these cases a patron's account would be suspended.
Patrons have the right to be notified of any disciplinary action being taken against them. They also have the right to contest charges made against them by scheduling a meeting with the Library Administration.  If a patron is unsatisfied with any decision of the Library Administration, they have the right to appeal to the Spring Lake Public Library Board of Trustees. Appeals should be made in a written letter, addressed to the Spring Lake Public Library Board of Trustees, 1501 Third Avenue, Spring Lake, N.J.07762. 
~ Adopted by the Governing Board of Trustees
Spring Lake Library celebrated its 100 Year Anniversary in 2019!  The beauty of the library and its historic signifigance bring many to our door.
We hope you enjoy this history of our beautiful library, located inside the Spring Lake Community House.
Early Days
During the summer of 1919 a resident of Spring Lake, Mrs.Adelaide Heilner, saw the need for a public library to serve the growing community.  She placed an advertisement in the Spring Lake Gazette requesting books and donations, and asked Mrs. Joseph (Sara) Height to help her in processing and recording the hundreds of books and checks that were received. 
In fall of 1919 the project was turned over to the newly formed Spring Lake Woman's Club, and a Library Committee was formed.  The first meeting of the Library Committee was held on September 12, 1919.  Shortly afterwards, Mayor O. H. Brown announced that he would donate a triangular plot of ground located within Brighton,
Third and Madison Avenues, and pledged to provide $100,000 for construction of a Community House to honor the returning soldiers and sailors from World War I.  This Community House was to be designed with Meeting Rooms, a Community Theatre and a space for the Spring Lake Library. 
Langhorne Cottage, which existed on this site, was placed at the disposal of the Spring Lake Woman's Club for use as its headquarters and also to be used as a temportay Library and Reading Room for the community.  By November the Library Committee had collected over 2,000 books.  A librarian and a janitor were hired, and bookshelves and tables were purchased.  A seven-member Board of Trustees was appointed by Mayor O.H. Brown, and by law, the Mayor and H.W. Mountz school Principal were mandated as members.
Spring Lake Public Library was opened to the public on November 11, 1919.
The library remained in Langhorne Cottage through the winter.  In April the contents of the library were temporarily moved to the Council Room in the old Municipal Building on Washington Avenue.
Construction of the Building
Once Langhorne Cottage and other buildings were moved from the property, construction began.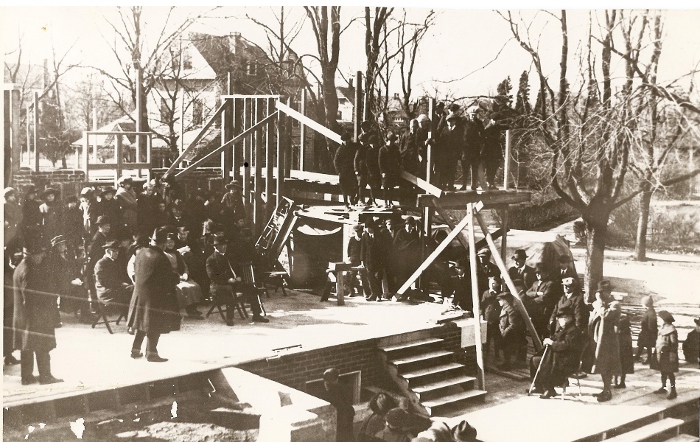 As construction neared completion, it was time to consider the library's move to its spot inside The Spring Lake Community House.  This move began on June 7, 1923.  The distance between the two buildings was so short a push-cart was borrowed and books were moved section by section in this manner.
Opening of the Library
On June 11, 1923 the Spring Lake Public Library was opened to the public in its new and final location.
Today the library still features a working fireplace flanked by chairs that remind visitors of a day long gone.  Less than 3 feet away, nestled among the historic wooden bookshelves are computers and printers with copy, scan, and fax capabilies.
---
Miss Martha Johnson is seated at the original circulation desk in this 1940s photograph of the interior of the library.  Standing in front of her is Mrs. Adeline Heilner, a founder of both the Spring Lake Woman's Club and the Spring Lake Public Library.